💎

Protect your eye

💎:

Watching TV in the dark causes the eyes to constantly adjust between a bright screen and dark surrounding area. 

💎

Safe to Use

💎:

Working voltage of 5V and equipped with

 short circuit protection and memory function. waterproof, extremely low-heat, touchable, and safe for children. 

💎

Easy installation

💎:

LED strip light is 13.2Ft can be cut with scissors on the cut marks (white lines) to fit the desired size of your TV. USB cable is 16 inches. Use the 3M adhesive. No need to connect the connector, open the package and use

💎

SPECIAL MUSIC MODE

💎 :

 

Spectrum with light and colors adjusting automatically base on the ambient sound, LED lights sync with the music. The strip light suits any type of music, including slow, relaxing tunes and dance music.
The hardware analyses what you currently have on the screen, be it a movie, a game, or anything else, it'll send this information to the device which in turn lightens the surface behind the screen with matching colors using the RGB-LEDs available within the device. 
Where to use:

Our Led lights can be put in places where traditional bulbs won't fit. Like under desks, monitors, bed, and behind the TV. 16 million color combinations and a 50,000-hour lifespan make the possibilities endless. The only limit is your imagination. For better results, it is recommended to install it in a way where you only see the reflection and not the actual light.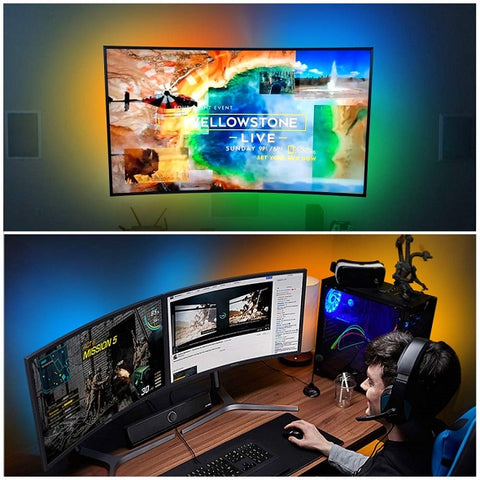 Easy installation:
Every step is very easy, just stick the strip lights on the smooth surface and connect according to the instructions. Our LED strips have stronger 3M adhesives than other LED strip brands. They stick well to TVs, PC, cabinets, and walls.
Installation method:
*Computer / Laptop is required to install the screen detecting software.*
Please read the instructions before you mount the light, you can also create your own installation method according to your own preferences.
Clean the dust, ensure the back of your TV is free from dust before installation to avoid falling off.

Remember to connect all things done, and test whether it is light up, then peel off the tape and install on your TV or somewhere you like.then plug the USB and use the remote to control.
Package Includes: 
1 * LED Strip
1 * Light Box
1 * USB Cable
1 * Power Adapter